OaCP – Fortress Diagnostics
Fast 

CoViD-19 Antigen Test
OaCP informs that the Fast CoViD-19 Antigen Test is not a domestic use kit and that the contents of this site are intended exclusively for healthcare professionals.
OaCP informa che Fast CoViD-19 Antigen Test non è un kit per uso domestico e che i contenuti di questo sito sono destinati esclusivamente agli operatori sanitari.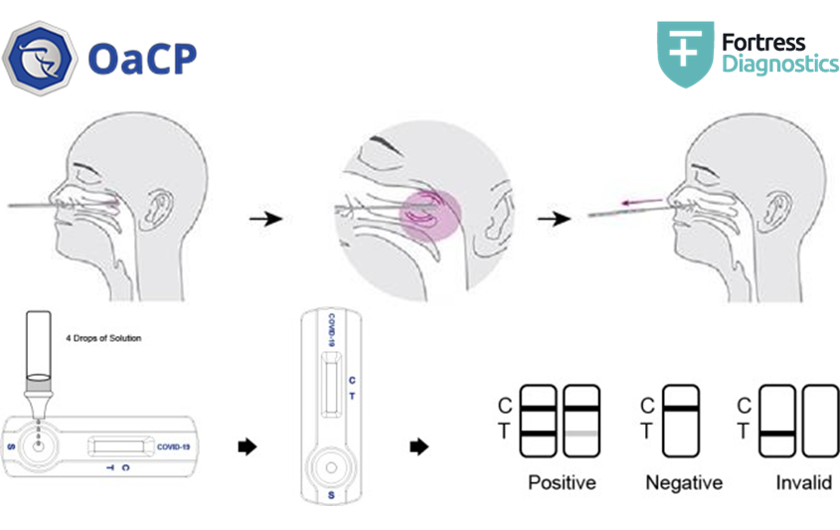 Fast 

CoViD-19 Antigen Test

Single use in vitro immunochromatographic  assay (15 min) for the qualitative detection of nucleocapsid protein antigen from SARS-CoV-2.

Sample required: nasopharyngeal swab
Product Characteristics
Qualitative test: Ag Rapid Test is an
immunochromatographic membrane assay that
implements highly sensitive monoclonal antibodies to detect nucleocapsid protein from SARS-CoV-2.
Accuracy: 96.3%
Specificity: 100%
Sensitivity: 88.3%
Detection of antigen + positive internal control
CE MARKED
Fast 

CoViD-19 Antigen Test

Test immunocromatografico in vitro monouso per la rilevazione qualitativa dell'antigene proteico nucleocapsidico di SARSCoV-2.

Campioni richiesti: tampone nasofaringeo
Informazioni
Test qualitativo: test immunocromatografico su membrana che utilizza anticorpi monoclonali altamente sensibili per rilevare la
proteina nucleocapsidica da SARS-CoV-2
Accuratezza: 96.3%
Specificità: 100%
Sensibilità: 88.3%
Rilevamento dell'antigene virale + controllo interno positivo
MARCATO CE
The Fast CoViD-19 Antigen Test is registered among Italy's Ministry of Health Database.
Fast CoViD-19 Antigen Test è un dispositivo registrato presso il Ministero della Salute.